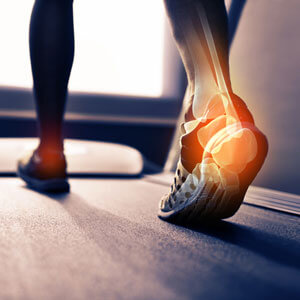 Hopefully my son in law will not mind me sharing this story about him.  Shhhh…. Please don' tell him. Josh is an exceptional young man; great husband to my daughter, Alaina, and a loving and great father to their five children.  Yes, five.  That is not a typo.
This fit, athletic 32-year-old recently tore his Achilles tendon while playing basketball.  This type of injury is a tough one.  It often requires surgery, followed by a whole year of recovery.  An injury such as this has ended many professional athletes' careers.
Why does this happen?  I look to the brain and the feet of the injured person for the answer.  Bad feet leave everything above vulnerable to injury.  Flat, pronated feet readily lead to achy knees with likely replacement down the road.   The low back is much more vulnerable with bad feet.  Why?  You are not meant to carry stress unevenly, from your feet up into your body.
Unfortunately, Josh has very flat feet.  The quickly, observable side effect of his flat feet is a bunion forming already.  Uneven stress from the feet up can certainly set up tearing of the Achilles tendon when very active, such as playing basketball.
Josh's case isn't as simple as flat feet though.  Here is when we look to the brain as the cause.  Josh had two major head injuries as a kid, "One required hospitalization and the other should have" according to Josh.
One or both of the injuries impacted the right front of Josh's head and also the brain, per testing we did in this office.  The side effect of right brain injury is vulnerability to the muscles on the opposite side. In this case, his left side which is the side the Achilles tendon and calf muscle tore.
What's the solution?  Custom orthotics are a must to protect the feet and above ward.  I love the product we use:  Foot Levelers.  They work!  Please don't think they are some cushiony insert.  Foot Levelers are custom made for you and are designed to balance the feet and nervous system.
Secondly, brain injuries resulting from past (recent or a long time ago) require red light laser treatment. Lasers are tremendous in making a brain more resilient.  Red light therapy works!  Both custom orthotics and red light therapy make your body more resilient and energetic.